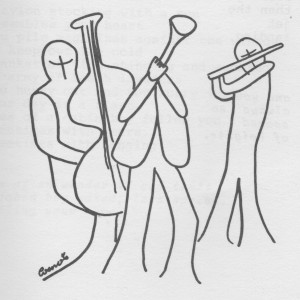 © 1975 by Tommi Avicolli Mecca
.
It was no less than a jazzman
who packed his trumpet in its black case,
lit a cigarette, sighed,
picked his nose, waved to the owner as he left the office,
took his pay envelope from the counter top,
smiled sawdust dry, exhausted, lips blistered & chapped,
face drawn like parchment paper or wrinkled wash,
nodded to the woman behind the counter
who was yawning & checking her apron pocket for an address
stretched his aching body
picked up the case, nodded sleepily to the pianist
who just returned from the men's room slightly flushed
& spitting into a bloodied handkerchief
the drummer light-headed, chocking from asthma,
stumbling on tipsy feet
the bass player rushing to hold him up:
"you shouldn't drink, I've warned ya"
echoes as the jazzman faces the damp morning
through the narrow alley exit
remembering a fat-faced moon watching her jazzman last night
like an unrequited lover, cars honking,
women chattering,
stray dogs around his feet like rats,
children playing ball in the street, laughing, yelling,
old woman in the flowered house dress
with the open armpits
bra strap hanging off the shoulder:
"Tony, where ya been?"
in a heavy Italian accent as he passes,
the light red, yellow, green as he crosses to his room,
endless ascension of steps,
familiar twisting of a key in a stubborn lock,
creak of a door, crash of shoes against the floor,
weary hands that drag pants off, peeling shirt & socks to the floor,
body sinking into an unmade bed, nose to the pillow
when the morning suddenly seems to fizz
like an airlock in a starship
before the air again fills the vacuum & the space beyond
devours the jazzman
.
originally published in Magic doesn't live here anymore, 1976/ drawing © 1976 by Bob Avicolli; and in Lazy Fair, Volume One, Number Ten, 1975.