© 2001 by Tommi Avicolli Mecca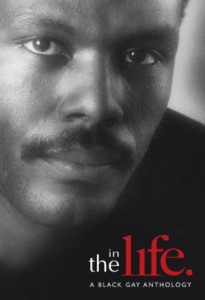 .
They found you dead on the floor of your bathroom/three days dead/found you alone/xmas eve dead
Winter in Philadelphia: the trees on your block were bare, the endless merry-go-round of men who parade shirtless and hungry-eyed were gone to that place where they go when the weather turns East-Coast bitter. Louise and I climbed the gray granite steps to your door, rang your bell several times, standing in the vestibule of your building. No one had seen you for days. There was no answer.
Later that morning at work at the Philadelphia Gay News, I received the call: three days dead/alone on the floor/xmas eve dead. I don't even remember who called to tell me. The police confirmed the news. I fought back tears and rage as I arranged for your obit to appear on page one.
So many things went through my head as I gathered the pictures and tapped out the words: meeting you at Giovanni's Room, the city's queer bookstore, where you worked; listening to you brag about the Audre Lorde interview you did, one of the greatest moment of your male feminist life; watching you in line to see James Baldwin at the African American Museum, talking to one person after another and finally to your hero; and talking for hours night after night on the steps of your apartment building.
You were so proud of In The Life, the first African/American gay-male anthology that you edited. After it was published, you started work on a sequel, Brother to Brother. It was the name of an essay you wrote for Au Courant, a local queer rag, now defunct. Once for that paper you wrote a glowing review of a one-man show I did (Giving Voice) about growing up southern Italian and queer in working-class South Philly. Of all the reviews the show got, yours meant the most to me. I told you that, didn't I?
Just days before you were found dead, I ran into you on your way to work, you were exhausted, I had never seen you look so tired. You complained about the upscale crowd that came into the restaurant where you worked. I asked about Brother to Brother, you said that manuscripts were scattered all around your desk. You were behind in your work on it. You seemed tired of everything, but I knew you weren't tired of the writing. It kept you going. How I understand that.
Years later, your mother sent me a bunch of photos she found among your things. "The pictures are beautiful," she wrote. "They are yours to keep." She would stay in touch after that, writing me every few months. Her letters were always a joy to receive.
How well I remember when you took those photos. Warm spring afternoon. You snapped some of them on the steps of the Philadelphia College of Art and the rest at my apartment. You wanted to practice your photography. I wonder why you never showed them to me?
You spoke for a nation/nation within a nation/you screamed, cried, accused/ laughed, danced/when all else failed/ you retreated to your fourth-floor walk up/ at 2039 Spruce
Your world.
I didn't know until after you were gone what a special place I occupied in that world. In "Making Ourselves From Scratch," one of your essays in Brother to Brother, you wrote: "My desk and typing table anchor the northeast corner of my one-room apartment…On the walls surrounding me are pictures of powerful people, mentors if you will. Among them are Audre Lorde, James Baldwin, John Edgar Wideman, Essex Hemphill, Lamont Steptoe, Judy Grahn, Tommi Avicolli…."
No, Joe, you were the mentor.
For Joe Beam
They found you dead on the floor of your bathroom
three days dead
found you alone
xmas eve dead
what did they expect?
you spoke for a nation
black gay nation
nation within a nation within a nation
you screamed, cried, accused
laughed, danced
when all else failed
you retreated to your fourth floor walkup
at 2039 spruce
past the summer & winter boys
& the boys who sell their wares
past the church that wanted you cured
& the men who wanted you dead
alone on the floor
xmas eve dead
were there presents under your tree?
more old bills to pay perhaps
& no new checks
to keep you from waiting tables
or serving drinks in all those restaurants
that looked the same
what did you drink that final day?
your own spilt blood?
writers bleed onto pages
blood coagulating into words
I think you were so tired of your own blood
on all those manuscripts
that you drank down your words
let their rage & courage & grief & joy fill you alone
xmas eve alone
a few days before your 34th birthday alone
even a writer needs a transfusion
you never got one
.
The poem For Joe Beam, originally published in Tribe: An American Gay Journal, Spring-Summer, 1991/ essay written for an anthology that was never published, © 2001