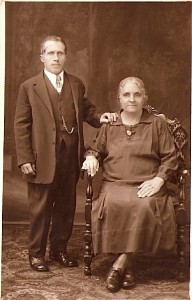 © 2002 by Tommi Avicolli Mecca
.
when I was a kid
old was nonno
sleeping in the dining room turned into bedroom
asthmatic old man
who couldn't climb stairs
or get out of bed
barely five-foot tall
olive-skinned
dark-eyed man who spoke no english
who sometimes didn't remember my name
who amazed me
because he was so old
old as the old country
my family always talked about
old as god
and just as powerful
old was nonna
we were forced to kiss
on the lips
when we went to my aunt anna
and uncle joe's house
she who smelled like a cellar
who mumbled words
no one could understand
lying in her bed
hands on the top of the covers
clutching a black-beaded rosary
that her mother once used to recite
her prayers
mama said nonna had powers
and we believed her
old was la via vecchia
the old ways
food prepared from early morning
pasta e fagioli
basil growing in the yard
processions to la madonna in May
solemn mass on christmas eve
things ancient
as nonna's hands
I once tried to count the lines
but there were too many
the old people
the old ways
were connections to where we came from
who we were
in this queer tribe
where I live now
there're no elders to be kissed on the lips
no wrinkled hands to be clutched
no beads passed down
no old country
few people remember where we came from
who we were
old is a
road
the young pray
they never
travel down
.
originally published in Philadelphia Poets, Volume 13, 2007; also in Intergeneration: Building Queer Community across the Ages through Art, 2002.