I am a writer, singer/songwriter, and performance artist who has been letting the creative juices flow out of my pen (more recently my computer keyboard) and my acoustic guitar for more than five decades, though I'll never ever admit that I'm really that old.
Starting out as a child, I staged original plays in a neighbor's yard in working-class South Philly where I was born, charging a few pennies admission. They didn't make me rich, but they gave me a real craving for the smell of the greasepaint, the roar of the crowd. Mostly the roar of children who screamed in delight (there's no accounting for taste) at what I managed to pass off as theatre.
In my teenage years, encouraged by a crusading editor who thought he was going to change the world, I published a bunch of poems in his neighborhood newspaper, the South Philly Review Chronicle. Though friends and family alike found my poems totally incomprehensible, I saw them as reflections of the confusion I was feeling about my sexuality and my anger at the injustices I read about and saw on TV. Nowadays, I realize they were right.
After high school, I found himself at Temple University avoiding the draft (I registered as a conscientious objector when it came time to visit Uncle Sammy's local draft board) and pursuing creative writing and political activism in the anti-war and gay liberation movements on campus. Winning by chance the Temple University Young Poets contest, I used the opportunity to challenge the university's literary world with work that celebrated male/male sexuality and the defiance of gender roles. I self published two chapbooks, Magic Doesn't Live Here Anymore and Boy Dreams that got a few reviews, generally favorable. Dozens of poems and publications later, my popular "Rape Poem" landed a spot in the prestigious anthology Gay and Lesbian Poetry in our Time (St. Martin's Press) next to James Baldwin (thanks to our names being next to each other in the alphabet). It was the closest I ever got to being a famous poet.
My first post-pubescent play "Judgement of the roaches" debuted in 1978, a somber Kafka-esque work in which a roach historian from a future sans humans (yes we were stupid enough to blow ourselves to smithereens) attaches himself to the protagonist, a queer boy growing up in South Philly (any resemblance to my life was purely intentional) to find out what led to humanity's demise. After several runs, it was reborn as a radio play and broadcast over a local university's station in four parts. The station's four listeners liked it.
The decade of the 80s (1981-1991) was spent at the Philadelphia Gay News as reporter, local news editor, and finally managing editor. I also contributed op eds to the Philadelphia Daily News and founded Avalanche, a multiracial queer theatre troupe that seriously pushed the limits of what was being done on stage. The troupe's antics had students on their feet applauding, but raised many an eyebrow among the high brow administrators at the colleges we toured one summer (in a rented van, thanks to a generous grant from the Philadelphia Foundation). One such administrator told us, "You couldn't have been more offensive if you tried." And we tried! Or at least I did. It was good to excel in something.
In 1985, I collaborated with director Amy Grosky and dancer/choreographer Doug James to produce "Giving Voice," a spoken word poetry theatre piece that explored my Italian heritage and the experience of growing up in an immigrant famiglia in working-class South Philly. Doug and I next teamed up on the country's first AIDS-related dance piece, "a man pours." I contributed the words. And I played death. Fortunately, Doug didn't give me any dance parts. He knew better.
Moving to San Francisco in 1991, I took to the stage at Josie's Cabaret for a one-man show, a reflection of my life up to that point. In the late 90s, I spent two years as a playwright in residence at San Francisco's Jon Sims Center, producing three one-act plays, La Madonna Nera, the aching in god's heart, and Esther's boys. In 2005, the aching in god's heart, expanded to full length, was featured at St. Boniface's Church Theater in the Tenderloin. In 1993, I published a queer radical critique of then newly elected President Bill Clinton called Between Little Rock and a Hard Place. In 1996, I won the Toronto-based Eyetalian magazine's best fiction award for The old tongue, a tender short story about my immigrant Nonno whose house I lived in as a child. The story was part of a novel rejected over and over again by American publishers. Maybe I should have gone to Canada instead of Temple.
As the decade ended, I edited, along with Giovanna Capone and Denise Nico Leto, an anthology of queer Italian American writing, Hey Paesan: Writings by Italian American Lesbians and Gay Men.
In the new millennium, I discovered the silver screen, appearing in the movie Medicine for Melancholy and the documentaries Vito, See How They Run and Boom: the Sound of Eviction. Is there an Academy Award for a life time of playing bit parts?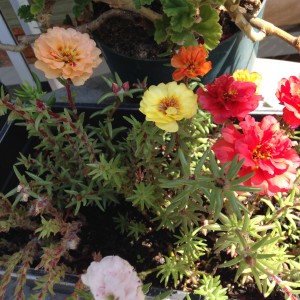 I contributed to beyondchron.com, SFsentinel.com and other web news blogs. When George Bush and company went looking for mythical weapons of mass destruction, I joined Diana Hartman and John Radogno in the Peaceniks, a group that played at anti-war rallies and wherever else we could find an audience for our radical music.
In 2009, to commemorate the 40th anniversary of the formation of the Gay Liberation Front in New York, I edited Smash the Church, Smash the State: the early years of gay liberation (City Lights Books), featuring writings by those who were involved in the post-Stonewall movement of the 70s. A couple years later, I joined with other Italian Americans in editing Avanti Popolo: Italians sail beyond Columbus, an anthology that grew out of several Dumping Columbus literary events we had organized. I contributed two poems: My ghosts and A final poem for Papa.
Finally listening to friends who said I should do a concert of my songs, I applied for a grant from the Radical Faeries and thus was born this boy is just too strange which pieced together a dozen of my songs into an hour-long presentation.
My latest project is a musical about San Francisco's housing crisis called A roof over my head. Written with Alison C. Wright, it has been presented in readings and one full production so far. And a 20-minute autobiographical work called the old brown jacket," which looks at my coming-out and the years that I lived in drag.